Friday, December 29th, 2006
I was pleasently surprised today when I found out that the SuperTux team had released version 0.3.0 of their fun game on december 17th. The previous release was even older than the last post on this weblog (I'm not dead, just very quiet). I found out later that 0.3.0 is considered an unstable version, and after playing it for a while I can agree with that. No in-game crashes, but missing sound, plenty of cpu usage and it won't quit unless I kill it. I installed it from the unofficial Ubuntu packages (for 6.10) that I found from the SuperTux download page.
I was disappointed when I discovered that the Icyisland (the first world) levels are the same as in the old
version (0.1.3). There is a hidden bonus level though, and I found a large, hidden area there (look down).
Even though the gameplay is improved, it would have been more fun with all new levels.
There should be some new leves after Icyisland but I haven't finished that yet. Let's hope that will be fun.
Here are some screenshots that illustrate some of the changes. Click on images to view full-size versions.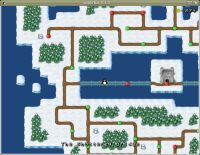 The new layout of Icyisland.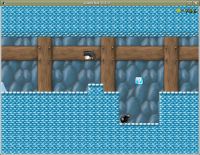 Supertux has learned some leet moves!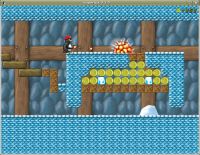 Supertux has more firepower!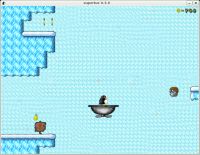 A surprise in the bonus level.